Regular price
$ 69.00 USD
Regular price
Sale price
$ 69.00 USD
Unit price
per
Sale
Sold out
This is the shirt you want to be wearing when the airline tells you they can't locate your luggage. Why? Because you really don't need anything else. It's the ultimate work shirt – worn alone or under a blazer it radiates a crisp, confident attitude. Paired with blue jeans, it's ideal for casual Fridays or a classic, pulled-together weekend look. But it's the fit that will make you practically speechless with joy: perfect button spacing and the exact right amount of stretch. Unlike the typical button down shirt, Exclusively Kristen provides a little extra room in the bust, so no pulling. Finally!
High quality 100% Cotton
Sleeve Length: 25"
Body Length: 24"
MADE IN THE USA
European sizing, please check size chart.
Share
View full details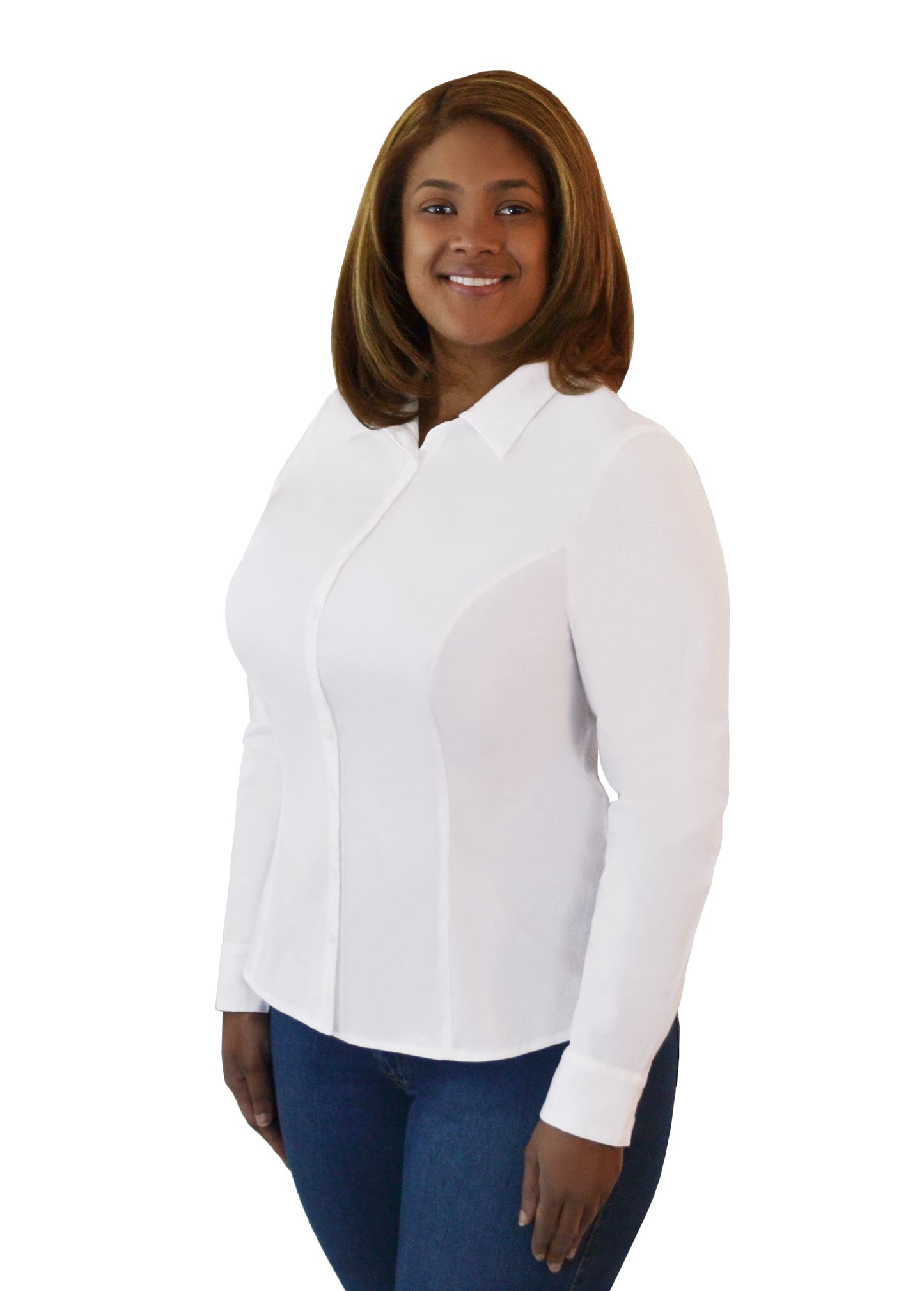 I can finally wear a button-down shirt!
My whole career I've avoided these types of shirts (and many others) because of the awkward fit. I've either had to leave button-downs open to the waist or get a size that might as well be a tent due to my larger chest to waist ratio. With this shirt, I can button all the way up with no pulling, AND the waist is fitted for a feminine silhouette that allows me to feel professional, but not frumpy. Buying more colors/sleeve lengths. I'm a 34G and went with a size 12.
Frumpy
The seams down the front made my chest look even larger! It also had a strange fit across my upper chest to the arm pit. It made me look very wide like I was going out for the football team.
Best. Fit. Ever.
I've never owned a shirt that fit this well. It is a perfect compliment to my hourglass figure. I was shocked when I tried on the 16 and it fit exactly how I'd always hoped for in a button down. I need it for work, so I'm ordering two more. :)
Bought as a gift and she loves it
She said "This shirt is fabulous" really big boobs and a small waist....
Girl!!
Business women have shapes too!! I am so THANKFUL I found this brand!! I wish it had more visibility because there are so many of us out here! I want to be professional AND dress my curves! Exclusively Kristen has solved this problem for me. I don't have time to tailor my own clothes or go to fittings, so this is perfect for me. I am a 36G (sometimes bigger depending on the time of the month) and I cannot tell you how hard it is to find classy, elegant, professional clothes for my hourglass body type!
This shirt is classic, sturdy, quality material and fits so beautifully. You will fall in love with your figure again.
Just buy the shirt.
For reference, I'm a 36G and I bought a 12.